Lets face it there's no where in the world quite like Las Vegas.
Out of the sands of the Nevada desert, this city has forever been growing in popularity with Americans and International travellers alike. Its born a history and culture all of its own and each Casino on its famous strip tries to out-do its neighbours each year.
Each getting bigger and bolder with every year it seems. There's now so much to see and do in here you'll need a travel guide to Las Vegas to help you make the most of it.
So here's our pick of the best Casinos in Las Vegas worth checking out.
Mandalay Bay Resort & Casino
There's a long standing tradition in Las Vegas of replicating famous iconic structures from around the world and themes you wouldn't expect to find in the middle of a desert.
The Mandalay Bay opened its doors in 1999, built on the land of the famous Hacienda casino which was knocked down in 1996.
It's striking design makes the Mandalay Bay visible from quite a distance and its hard to ignore its 46 floors towering above you. There's a great sense of space here and you'll find Mandalay Bay has its very own beach and even a shark reef.
Most of the tables at its casino are for high rollers so they may be a little out of your pay grade, but on the plus side you're pretty much guaranteed to bump into a few celebrities here.
There's also some great slot machines here so grab a free cocktail, enjoy the beachside surroundings and go celeb spotting! Check out mandalaybay.com
Caesars Palace
For the ultimate themed hotel and casino, look no further than Caesars Palace. As the name suggests this is no ordinary casino. Massive marble columns and endless fountains and roman statues all create a wonderfully over the top ambience of the golden age of the Roman Empire.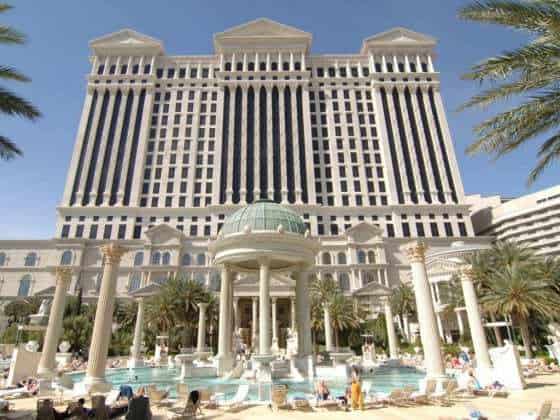 Everything about this place is huge and extravagant, including the resident musical artists. The aptly named Colosseum is where you'll find the likes of Elton John, Celine Dion and Bette Midler performing every night in residential spots. Caesars Palace has been open since 1966 and is one of the longest running casinos in Vegas.
Its reputation for opulence and for being the venue of many stunts over the years, has kept this casino at the top of everyone's list. A must see while you're in town. Check out caesarspalace.com
The Bellagio
One of the most lavish hotels and casinos on the strip. The Bellagio is without doubt the place to start when you're checking out best of Vegas. From its world famous fountain display outside, to its lush interiors, this casino is the place to see and be seen.
Vegas is well known for its over-the-top approach to hotel room design and the Bellagio is the epitome of this. If you get the chance this is definitely one place you'll want to stay.
The high rooms has fantastic views and the casino floor is one of the best in the city. Check out bellagio.com
MGM Grand
There's a good reason its call the Grand as this is Las Vegas' biggest casino. Indeed when it opened its doors in 1993 it was the biggest hotel in the world, boasting 6,852 rooms. It also has over 171,000 square feet of gaming floor hosting some 3,500 slot machines and 165 game tables. Thanks to its size the atmosphere he is always fantastic, the casino floor bustles and buzzes to the sound of winners and losers making the most of all the machines.
The MGM Grand is also famous for hosting major events especially championship boxing matches. You'll also find award winning chefs at numerous restaurants within the grounds and the Grand Garden Area is where you'll catch world tours from the likes of Katy Perry, Justin Timberlake, Kings of Leon and Aerosmith. Tickets aren't cheap but for a real slice of Vegas atmosphere, this is the place to be. Check out mgmgrand.com
The Luxor Hotel & Casino
There's no way you'll ever miss this hotel for more than one reason. For starters its a huge glass pyramid! Built in 1993 it has over 4,400 rooms and is over 30 storeys tall. Secondly if its dark you'll be hard pushed to miss the beam of light shooting vertically from the peak of the pyramid.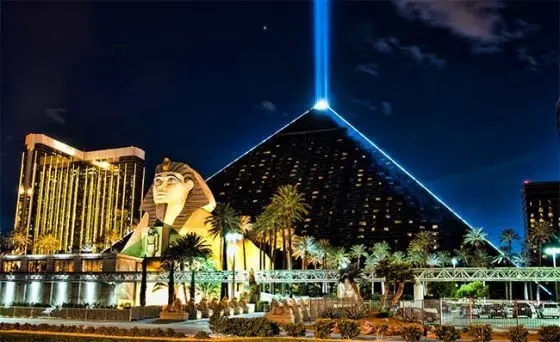 This 315,000-watt light is actually 39 Xenon spotlights that are so bright its visible from over 250 miles away! Inside the pyramid you'll find a casino fit for an Egyptian King.
The Luxor also prides itself on having some of the best cuisine available in Las Vegas. You'll also find a poker room in the casino just for rookies where you can get free lessons. Definitely worth checking out when you visit Vegas! Check out luxor.com
Latest Las Vegas Hotel discounts
I've searched the internet and found these awesome deals in Las Vegas at the moment. Just click "View hotel" to see more about the discount hotel in vegas.
[tp_hotels_selections_discount_shortcodes city="20703″ title="" paginate=true off_title=true type_selections="popularity" number_results="20″ subid="" city_label="Las Vegas" type_selections_label="Popularity" link_without_dates=true]